Kimekomi Dolls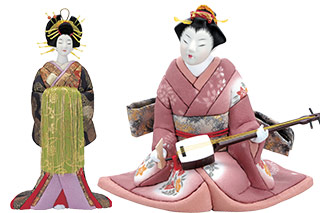 Kimekomi Doll is a traditional Japanese doll. It was established in the middle of 18th century at Kamigamo Shrine in Kyoto. The legend said that the carving artist of Kamigamo Shrine, Takahashi Tadashige, made a doll with the Kimono fabrics. This was the origin of Kimekomi dolls. He made many dolls from mill ends from his works at the shrine.

Late Kimekomi dolls were imported to Edo, current Tokyo, and improved with Edo Culture,because Edo period was a very peaceful period, many Japanese cultures flourished splendidly.

Comparing to Kyoto Style Kimekomi Dolls, Edo Style Kimekomi Dolls has a smart face with small eyes and nose. Kyoto Style takes the essence of the elegance. Edo Style takes the art of rakish and coolness.

Kimekomi Doll is able to take very flexible shape. The figures take freestyle designing. Also, even with the same body, people can coordinate unique design with different fabrics.

Kimekomi Dolls do not require special skill to make, it has been a very popular hobby to make and to design Kimekomi Dolls.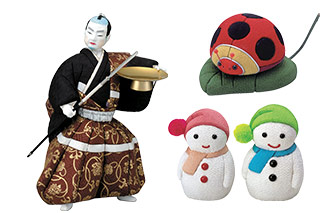 Kimekomi Dolls have a large variety of doll patterns starting from cute Ichimatsu Dolls and Hina Dolls for girls to Western styles such as animals, Santa Claus and snowman.

So, would you like to try making your own custom dolls? The most interesting part of Kimekomi Dolls is that you can make the doll. Tanabe has a phenomenal amount of fabrics and doll's bodies including accessories. Please step into the world of Kimekomi Dolls.